Premier Inn proposed for Truro's Old Bakery riverside site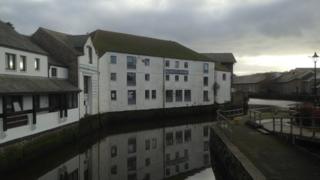 A public meeting has been held in Truro to discuss a hotel chain's plans to build on the site of an artists' community.
Premier Inn has submitted a pre-application query for a 75 bedroom hotel on the riverside site of the Old Bakery.
Loic Rich, a Cornwall councillor, said he had already heard from a large number of concerned residents.
Artists in Truro said 40 businesses could be forced out of the city.
'Caused a stir'
Councillor Rich said: "With anything to do with planning there's always a process. From what I can gather they'll be going for a pre-application.
"I think by testing the water they've already caused a stir in Truro."
Jilly Ballantyne, an artist with a studio on the site, said the businesses in the Old Bakery were vital for diversity in the city.
Ms Ballantyne said: "All of these individual people struggle to make a living, but they do make a living.
"They put a lot into the economy and keep it interesting. You can buy different things from jewellers, or artists, or individuals, and not just mass produced going to some big corporate giant."
A spokesman from Premier Inn said: "Truro is a town we would like to invest in.
"Therefore we are exploring a number of potential opportunities to develop a new hotel in the local area."