Vandalised Bodmin WW1 Christmas tree replaced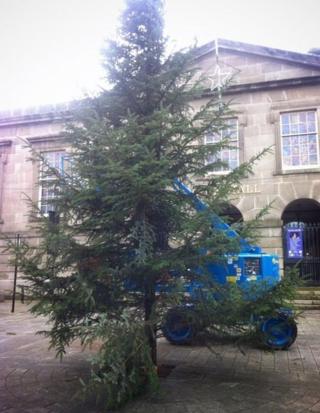 A Christmas tree designed to commemorate World War One which was destroyed by vandals has been replaced.
The culprits attempted to cut down the tree in Bodmin, Cornwall, with electrical tools in the early hours of last Friday.
The lighting display was shredded in what had been believed to be a "predetermined effort", Bodmin Town Council said.
A new 28ft (8.5m) tree has been erected in the same spot.
Carolyn May, senior projects officer at the town council, designed the previous tree's red, white and blue lighting to mark the 100th anniversary of the beginning of World War One.
The vandals hacked at the tree's base, resulting in it needing to be taken down.
At least £500 of damage was caused, the council said.
Devon and Cornwall Police were informed of the vandalism.