New Cornwall housing 'will put much strain on classrooms'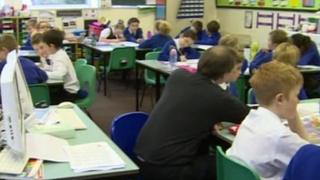 Some head teachers in Cornwall are warning planned new housing could put too much strain on already overcrowded classrooms.
Cornwall Council is in the process of working out where to invest £32m of government cash for new school places over the next two years.
The county's Local Plan states 47,500 new homes are due to be built by 2030.
The council said it monitored pupil numbers and school places were still available.
'Family homes'
Connor Downs Primary School, near Hayle, has 178 pupils, when there is only capacity for 175, with seven year groups in six classrooms.
Head teacher Susan Costello said she was "constantly having to turn people away".
She said: "I very much feel that children who live in the village should be educated in the village school.
"It's not just about education, it's about their social wellbeing too."
She added that plans for house construction nearby were for "family homes".
"They're not one-bedroom homes," she added.
Rosemellin Primary School, in Camborne, also said it was nearly full and it was facing three new housing developments nearby with no sign of cash to allow it extend.
Head Jonathan Peek said: "There are plans for 500 houses and we believe when all the houses are developed it will mean about 150 children."
Cornwall Council said it was in the process of working out where to spend £32m earmarked for education improvement for two years from September.
It said it monitored pupil numbers across and it hoped to have the details on where the latest cash would be spent by the end of February.
It added it was in discussions with Rosemellin about future pressures and there were sufficient places in nearby schools to meet demand.