Royal Cornwall Hospital operations cancelled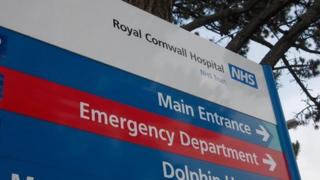 The Royal Cornwall Hospital was forced to cancel 21 operations on Tuesday due to an increasing number of patients attending its Emergency Department.
Senior staff said that on Monday evening 25 patients were waiting in A&E to be admitted elsewhere in the hospital - almost A&E's capacity.
They admitted that "pressure mounting" on services had caused the problems.
Managers said staff had "worked really hard" to find beds for patients.
Andy Virr, A&E consultant and hospital divisional director for medicine, said recent pressure on A&E was "no real surprise" in the winter and was echoing similar problems around the country.
Newly released figures showed the NHS in England missed its four-hour A&E waiting time target with performance dropping to its lowest level for a decade.
Mr Virr said staff had "worked really hard" trying to find beds but part of the problem was people unnecessarily putting pressure on the hospital.
"A&E is for life-and-limb problems on the day, and patients need to think if they can get care elsewhere," he said.
"Every extra patient here means care to critical patients gets diluted."