Cornish bard Les Merton 'sexually abused' girls, court hears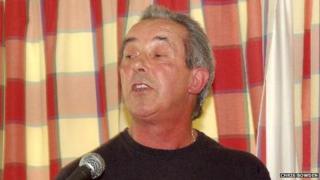 A Cornish bard sexually abused a number of young girls for more than 20 years, Truro Crown Court heard.
Author Les Merton made victims watch pornographic versions of fairy tales and drink alcohol, the court was told.
Mr Merton, a poet and author of The Official Encyclopaedia of the Cornish Pasty, was made a Cornish bard for his contribution to literature in 2004.
He denies 16 counts of indecent assault against girls and four of indecency with a child from 1983 to 2004.
Garth Richardson, for the prosecution, told Truro Crown Court, the assaults began "very quietly, furtively" and became "worse and more serious" over time.
The court heard Merton showed one victim, aged under 13, a video of Snow White and the Seven Dwarves "but it was a pornographic version".
'Special game'
Mr Richardson said Mr Merton, 70, of Penryn Street, Redruth, showed the video to several of the victims.
The court heard Mr Merton played cards with young girls in a game where the loser was told to carry out a sexual act.
The prosecution said Mr Merton told the girls: "This is our little secret - our special game."
Cornish bards are appointed by the Cornish Gorsedh which honours people for "outstanding contributions to Cornwall and its ancient culture, history and language".
Mr Merton was given the bardic name Map Hallow (Son of the Moors) when he was given the honour.
The trial continues.