Cornish bard Les Merton guilty of child sex abuse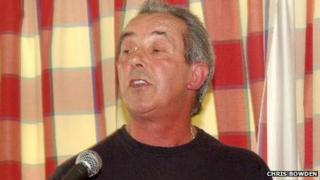 A Cornish bard and author has been convicted of child sex abuse.
The jury at Truro Crown Court found 70-year-old Les Merton guilty of all the charges he faced, crimes that took place over a period of over 20 years.
Merton wept in court as he denied indecently assaulting girls as young as seven and committing acts of indecency.
During the trial, the jury was told Merton had previously been cautioned by police for accessing a website showing indecent images of children.
'Our special game'
The court heard Merton, author of The Official Encyclopaedia of the Cornish Pasty, made victims watch pornographic versions of fairy tales and drink alcohol.
Merton showed one victim, aged under 13, a pornographic version of Snow White and the Seven Dwarves.
Merton, of Penryn Street, Redruth, also played cards with girls in a game where the loser was told to carry out a sexual act, his trial heard.
The author told his victims: "This is our little secret - our special game."
'Rasputin research'
Devon and Cornwall Police cautioned Merton in 2005 for entering his credit card details on to a site containing indecent images of children.
Giving evidence during his trial, Merton told the court he had been researching Rasputin online and had accidentally gone on to the site and "naively" entered his details.
"I didn't look at any images once I saw the thumbnail images," he said.
The jury was unanimous in finding Merton guilty of 16 counts of indecent assault and four of indecency with a child, from 1983 to 2004.
Cornish bards are appointed by the Cornish Gorsedh, which honours people for "outstanding contributions to Cornwall and its ancient culture, history and language".
Merton, who will be sentenced on 21 January, was given the bardic name Map Hallow (Son of the Moors) when he was conferred with the honour in 2004.