Party invoice: Children's birthday party faux pas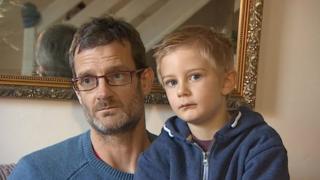 The story about a five-year-old boy sent an invoice for failing to attend a friend's birthday party has generated lots of reaction from readers. BBC News asked for examples of your children's party faux pas. Here is a selection:
Wrong party
"I once took my son to a party with two presents as it was for a joint birthday for two classmates I didn't know.
"My husband had returned the 'yes' slip but not detached it from the invite, so we had no contact details."
After arriving, the mother said they all took their shoes off and entered the soft play area and smiled at the other parents.
"I was then accosted by the mum of the birthday girl. I was at the wrong party on the wrong day. We left, feeling like criminals, with two presents I couldn't use."
The no swearing rule
One 53-year-old reader remembers when he had just started secondary school and had learned all the swear words.
He was attending a family friend's nine-year-old's birthday when he forgot where he was.
"A lad stamped on my foot on purpose and I screamed [a swear word] at the top of my voice in front of all the parents and kids ranging from six years old onwards.
"My mum was so embarrassed, as was I, and I had a sore ear for a week."
Mary Poppins
Attending a party where you barely know the hosts can be problematic, as one reader from London remembers.
The mother took her son to his nursery friend's third birthday which was held at a very grand house with several entertainers, personalised t-shirts for every child and "amazing" party bags.
She said: "I was introduced to the child's nanny and replied, 'oh you look far too young to be a grandma'.
"I was immediately corrected that it was the child's nanny as in 'Mary Poppins' not the grandmother. My son never got an invite back."
Religious sensibilities
One reader's parents served a "good spread of party snacks" at his birthday, party including pork cocktail sausages.
The one problem was he attended a Jewish faith primary school, despite him not being Jewish.
He said: "The following day my parents were visited by numerous parents of guests complaining about the fact that their children had been fed pork cocktail sausages contrary to their dietary beliefs.
"It appeared that my guests had enjoyed them so much they had asked if the little sausages could be served at their homes."
One cake or two?
Holding a child's party on a different day can bring a host of problems. What will you do on their actual birthday and will they have enough presents and cards to open?
One reader still gets teased by her son, who was seven years old at the time, for not buying him two cakes - one for his birthday and one for his party.
She said: "I was struggling to pay for such a treat in those days, so asked him when he wanted his birthday cake as I couldn't afford two.
"He said on his actual birthday, but when he had no cake at his party he was mortified and still teases me about it today.
"I felt and still feel awful that I didn't get a second cake, however cheap."