World Dwarf Games champion inquest: Open verdict recorded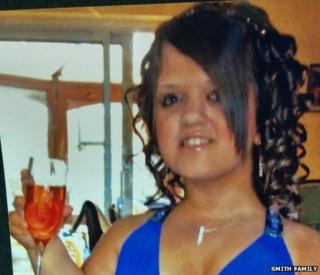 An open verdict has been recorded at an inquest into the death of a former World Dwarf Games gold medallist whose body was found in her university flat.
Ruth Smith, 22, who won gold at the games in 2005, was found dead on her bed in the shared flat at Falmouth University, Cornwall, in 2013.
She had epilepsy and other health issues and was found dead two days after she had been last seen.
The inquest, in Truro, heard earlier she died from an excess of painkillers.
'Felt unwell'
Journalism student Ms Smith, who won gold in the sport of boccia, similar to bowls, started at the university in September 2013 and was found dead on 25 November.
Ms Smith, from Prestwich, Greater Manchester, had several health issues, including dwarfism, spinal problems, depression and epilepsy, the inquest heard.
She had phoned the Serco out-of-hours health service because she was feeling unwell after a seizure on 23 November 2013, when she was last seen.
A pathologist earlier told the hearing that tests showed lethal levels of paracetamol and codeine in her system, and that epilepsy was also a possible factor in her death.
The inquest also heard the university had a living support team which regularly checked on students with a medical condition.
Serco confirmed a doctor was involved in Ms Smith's care two days prior to her death.
It said it had "thoroughly reviewed" the case and believed the doctor "responded in a wholly appropriate and professional manner and in line with best practice and the current NICE guidance".
The university said it extended its deepest sympathy to Ms Smith's family and that she was "greatly missed".