Falmouth ex-soldier's eviction-risk family review agreed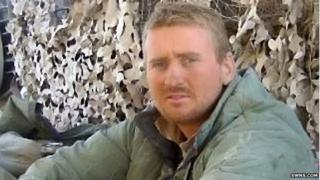 A former soldier and his family who are threatened with eviction from a council house will have their case reviewed, the local authority has agreed.
Jamie Streets, 34, his wife and four children face being evicted from temporary council accommodation in Falmouth, Cornwall.
Cornwall Council had said they intentionally made themselves homeless from the private rented sector.
But, it agreed to review the case after a plea by charity UK Homes 4 Heroes.
Mr Streets served 15 years in the army, in Kosovo and Afghanistan, before returning to the UK in 2008 and joining the Household Cavalry Mounted regiment.
After being thrown from a horse he was diagnosed with a malignant brain tumour and medically discharged from the army in 2013.
The family then moved to Falmouth where his wife Charmaine, 37, was born and grew up.
Mrs Streets and her husband have been living in temporary council accommodation since July with their four children, Suvannah, two, Briea, nine, Leo, 13 and Tyler, 15.
The family were living in privately rented accommodation but served notice because they could not afford to stay without relying on housing benefit, a type of tenant the landlord did not accept.
'More confident'
They were put in temporary housing by the council but have been denied a permanent solution and told they will be moved out of their temporary home in four weeks.
Commenting on the review, Mrs Streets said: "I feel a little bit more confident but we will wait and see what they come back with."
David Wood, of UK Homes 4 Heroes, said the council risked breaking the military covenant to have a duty of care for veterans.
"After a long discussion we have now managed to get an urgent review on this case and hopefully get the outcome that should have been decided in the first place," he said.
The council declined to comment on the Streets' case.
In a statement it said: "Cornwall Housing applies Cornwall Council's housing allocations policy which fully takes into account the homelessness legislation and provisions relating to armed forces veterans which have been introduced by the government in relation to housing."