Man scattering ashes at Trebarwith Strand swept out to sea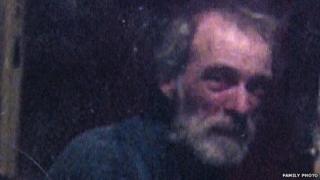 A 51-year-old man is missing after being swept out to sea while scattering his sister's ashes in North Cornwall.
Shane Galliers was last seen at Trebarwith Strand, near Tintagel, where coastguards said he was caught by a large wave late on Saturday afternoon.
Two other members of the group he was with went into the sea in an attempt to rescue him but were unsuccessful.
Despite an extensive search by coastal rescue teams on Saturday and Sunday, Mr Galliers has not been found.
The Maritime and Coastguard Agency (MCA) said no further searches were planned.
Members of his family told BBC News he had been scattering his sister's ashes when he slipped into the water.
Jasmine Bird, whose mother's ashes Mr Galliers was scattering, said: "This is a very personal spot for the family.
"Most members of the family that have passed away are brought here to be scattered.
"My mum and him [Mr Galliers] were incredibly close. They kept each other sane throughout the entirety of their lives."
Two coastguard rescue teams from Boscastle and Port Isaac, the Padstow RNLI Lifeboat and a search and rescue helicopter from RMB Chivenor all assisted the operation during a four-hour search on Saturday.
Neil Oliver, Falmouth Coastguard watch manager, said conditions had been "unfavourable with gale force winds and rough seas".
Ken Richards, station officer for Port Isaac Coastguard Rescue Team, said they searched in the dark, in hail and strong north westerly winds.
On Sunday, a spokeswoman from the MCA, said a shoreline search had taken place at low tide by two coastguard rescue teams from Boscastle and Port Isaac.
Family 'distraught'
William Titcombe, who is the manager of the nearby Port William Hotel, said up to 15 people from the coastguard rescue teams had combed the beach and looked along the tide-line.
"It is quite a dangerous part of the coastline and each year a number of people end up getting rescued."
Mr Titcombe said the family was "distraught".
Mike England, from Padstow Lifeboat, said: "It's a great shame someone was doing something for a family and they end up getting washed off."