Royal Cornwall Hospital heading for deficit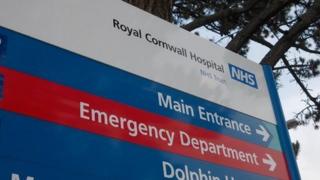 Cornwall's biggest hospital is heading towards a deficit this year say managers, who had hoped for a surplus.
The Royal Cornwall Hospital had planned to be £2.7m in surplus by the end of December, but it was actually £5.6m in the red, £8.6m off its target.
"It is currently likely that the Trust will end the financial year in deficit," said a report to the board.
Overspending in January was £1.1m, through savings failures and higher-than-planned emergency surgery costs.
'High concern'
The trust only receives 30% of the cost of emergency surgeries above a certain level, under rules introduced in 2010.
The government said it was intended as a way of "encouraging NHS providers and commissioners to manage demand".
The report to the board said the change had cost the trust £2m so far and was forecast to hit £2.6m by the end of the financial year.
Adam Wheeldon, the hospital trust's deputy director of finance said in the report: "This is a significant financial and operational risk to the trust and continues to be of high concern."