'Unprecedented' storm damage to South West cliffs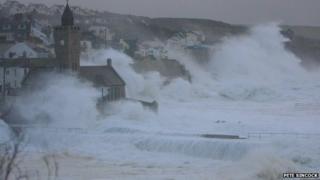 The violent winter storms which battered the UK last year had the power to physically shake cliffs in excess of anything previously recorded, scientists have said.
Experts used laser scanners and cameras to evaluate the impact of the waves on cliffs at Porthleven, in Cornwall.
They found the level of shaking was of an order of magnitude greater than ever previously recorded.
The findings have been published in the journal Geophysical Research Letters.
The researchers also recorded high rates of erosion on the cliffs from the waves, which were up to 26ft (8m) high.
Prof Gerd Masselink, from Plymouth University, who led the research, said: "Our coastline acts as a natural barrier to the sea, but what we've seen right across the south-west of England is unprecedented damage and change, from huge amounts of sand being stripped from beaches to rapid erosion of cliffs.
"These figures will help to explain some of the invisible forces being brought to bear on our coastal structures, and highlight the risk of sudden cliff damage."
PhD student Claire Earlie, from the university, said it was the "most energetic Atlantic storm period since at least 1950".
She said: "Cliff-top ground motions showed vertical ground displacements in excess of 50 to 100 microns, an order of magnitude larger than observations made previously anywhere in the world."