Callington College homophobia, racism and sexting probed by Ofsted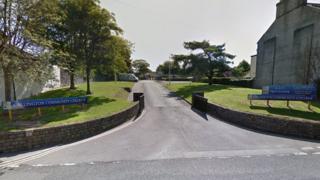 A Cornish secondary school has been criticised by inspectors for allowing students to display homophobic and racist attitudes.
Callington Community College, which became an academy in 2011, was found by Ofsted to have a poor safeguarding culture, an inspectors' report said.
Students also told inspectors "sexting" [sending explicit text messages] was prevalent and "accepted as typical".
The school said it was working to implement recommendations made.
'Immature attitudes'
Ofsted carried out a Section 8 inspection in January - a monitoring inspection when the watchdog responds to matters brought to its attention.
In its report, Ofsted stated the academy's safeguarding arrangement did not meet requirements.
The report also said teachers at the "larger-than-average-sized comprehensive college" with 1,400 students were not responding assertively to disrespectful language and immature attitudes towards homosexuality and race.
It also criticised the structure of the curriculum, elements of staff training and monitoring by governors.
Inspectors said staff "needed to urgently develop a strong culture of safeguarding, tolerance and respect".
Principal Sean Morris said the school was pleased Ofsted found it "reacts well when child protection issues arise", but accepted "our current practice falls short in some areas and there are lessons we can learn".
He added it was working "to implement all the recommendations contained in the report as quickly and effectively as possible."