Teacher Derek Lloyd admits sex with pupil but is found not guilty of indecent assault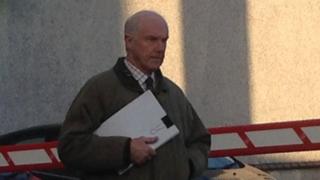 A teacher who admitted having sex with a teenage pupil has been found not guilty of three charges of indecent assault against the boy.
Derek Lloyd, admitted sexual activity with the boy, then 15, on a trip abroad and later when the boy was 16.
But under the law, he could not be prosecuted in the UK for sex with a child abroad before 2008.
Mr Lloyd, who taught at a Cornish boarding school, appeared before Truro Crown Court.
He denied sexual activity with the boy in the UK between 1978 and 1981.
'Deeply wrong'
Giving evidence, Mr Lloyd, 70, of St John's Court, Stratford-upon-Avon, told the court he felt "a very protective urge" towards the boy.
He said a physical relationship developed "unexpectedly" when abroad.
"I consider it deeply wrong. I have regretted it ever since," he said.
Asked by David Sapiecha, for the prosecution, what had happened, Mr Lloyd said: "It was giving way to a sudden and very powerful temptation which I can't explain."
The defendant taught English at a boarding school for children with behavioural difficulties.
He told the court he had vowed to tell the truth if ever confronted by the boy.
He said he had been unaware that he could not be prosecuted in the UK for historic sexual activity with a child abroad until the case went to court.
It had not been possible for courts in the UK to prosecute UK nationals for sexual offences carried out abroad before 2008.
The law changed when legislation introduced under the Criminal Justice and Immigration Act 2008 stated "proceedings may be brought against the person in that part of the United Kingdom for that sexual offence as if the person had done the act there".