Facebook page of 'super-busker' Madison Glinski is deleted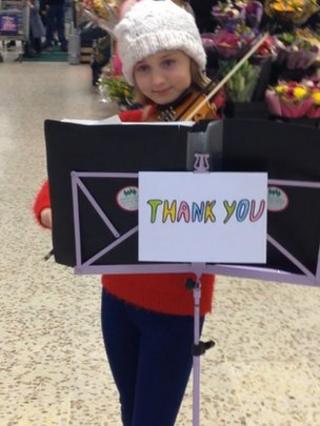 A 10-year-old busker who raised £34,000 for charity is "devastated" after her Facebook fundraising page was deleted because she is under-age.
Violinist Madison Glinski of St Ives, Cornwall lost hundreds of pictures and messages when the page was deleted.
She had been named as administrator of the page by her mother to give it a "personal touch".
But Facebook said that broke rules which say everyone with a page must be over 13.
Last year Madison raised thousands of pounds for Little Harbour Children's Hospice South West with her busking in Truro and St Ives.
This year she is aiming to increase her total to £50,000.
'Completely callous'
Madison's Facebook fundraising page was created last August by her mother Terassa who put in her own date of birth, with Madison as the named administrator.
"It didn't look right having my name on for replies and posts, so we changed it to her name," said Mrs Glinski.
But the page was deleted on Tuesday, and a message asked for verification of Madison's age.
Mrs Glinksi said she pleaded with Facebook to allow her to become administrator and save the page, but was rejected.
"I agree with the rules but everything has been lost - her diary, videos and messages from followers - and Facebook have told me it is irretrievable.
"They were just completely callous."
Madison said: "The people that followed me helped me raise a lot of money for charity.
"I just felt the children were going to be missing out."
Facebook declined to comment on the case but said in a statement: "When an account with someone under 13 is reported to us, in accordance to our rules, we remove the account."
Mrs Glinski has now opened another Facebook page for Madison.
She said: "It had made us stronger and she is not going to stop."