Rogue builders who 'preyed on elderly' are jailed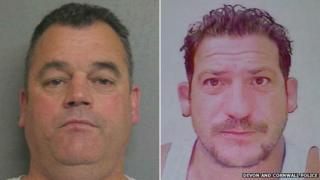 Two rogue builders who ripped off pensioners across Cornwall have been jailed.
Nelson Richards and Johnny Jones carried out unnecessary repairs at inflated prices with shoddy results.
The average age of their victims was 75, with the oldest being an 89-year-old woman who lived alone.
Jones, 48, was sentenced to five years and Richards, 51, was sentenced to three years with an extra six months for breaching a suspended sentence.
'Deliberate targeting'
Judge Simon Carr said Richards and his brother-in-law Jones, both of Tregajorran, near Redruth, "preyed" on the "vulnerable and elderly".
Sentencing at Truro Crown Court, the judge said the "deliberate targeting of vulnerable people" was an "occupation" for Richards.
Richards had been jailed in 2006 for defrauding a large number of people out of more than £600,000.
Within weeks of being released on licence in February 2012 he was "committing almost identical offences".
The court heard in a typical offence Richards offered to clear the guttering of an 83-year-old woman for £100.
He went on to defraud her of £17,900, repeatedly driving her to a cashpoint in Falmouth to withdraw more money.
'Easy touch'
The court heard Richards "ingratiated himself" with the victim and told her: "I would never diddle you".
Richards appeared by video link from Exeter but walked out of proceedings claiming there was "too much stress".
The judge said he accepted Jones was "a genuine builder" but it was clear he viewed elderly people as "an easy touch".
The judge said victims had handed over "considerable amounts of money" for no work or work of a very poor standard.
The prosecution and defence agreed Richards benefited by £58,530 and Jones by £35-45,000.
At previous hearings Jones pleaded guilty to fraudulent trading and Richards pleaded guilty to one count of fraud and two counts of abusing his position as a tradesman.