Bryan Pearce paintings worth £100k stolen in burglary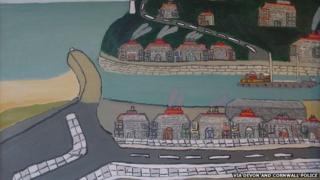 Four paintings, including a pair by one artist valued at a combined £100,000, have been stolen in what may have been a targeted burglary in Cornwall.
The paintings, by artist Bryan Pearce, were taken from an isolated cottage in Zennor between Friday 16 and Tuesday 27 January, Devon and Cornwall Police said.
The pictures, Portreath and Jug & Catkins, both date from 1960.
Thieves entered by forcing a ground floor window, police said.
Det Con Neil Harvey, from Devon and Cornwall Police, said they were believed to be "high-value paintings".
Research by their owner showed similar works by Pearce had sold at auction for about £50,000 each in recent years, he added.
"Anyone who knows his painting knows he has a particular style," he said.
Police are also investigating another burglary around the same time at a cottage next door.
Mr Harvey said: "It appears they may have been been targeted for these paintings and the first house may have been targeted by mistake."
Pearce, who died aged 77 in St Ives in 2007, had a rare congenital disease that caused damage to the brain.
In his obituary he was described as a "painter of radiant precision charting the world of St Ives with a natural innocence".