Royal Cornwall Hospitals Trust operations cancelled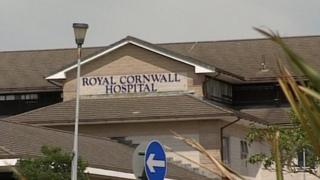 Operations have been cancelled after an NHS hospital trust declared a "black alert" due to pressure on its services.
The Royal Cornwall Hospitals Trust declared the highest level of alert on Tuesday with some patients kept on trolleys for up to eight hours.
The trust covers St Michael's in Hayle, West Cornwall Hospital in Penzance and The Royal Cornwall in Treliske.
Hospital bosses said the "black alert" remained in place, but the situation was improving.
Eighteen patients have had their operations cancelled on Wednesday and some staff leave has been suspended.
At one point, there were 75 patients in beds who could be sent elsewhere, but by Tuesday evening that number had been reduced to five.
'Difficult to manage'
Debbie Pritchard, head of Healthwatch Cornwall, said there was a shortage of people prepared to work in home care and it was one of the main reasons for delayed discharges from hospital.
Peter Wearne, from Bodmin, said his mother-in-law was one of those unable to leave hospital because there was no care package in place.
"The hospital says she is ready to be discharged, but I know the care companies in the area aren't able to provide the staff," he said.
Dr Iain Chorlton, governing body member at NHS Kernow, said: "The demand over this winter has increased significantly and we've all found it difficult to manage.
"Black alert allows us to focus resources to make sure patient safety isn't compromised."
A black alert is the highest level of alert and the trust expect it to last between 12 and 24 hours. The measure applies to the whole health and social care system in Cornwall.
Patients are being asked to use the A&E department only if it is urgent.
Alternative support and services are available by calling NHS 111, hospital chiefs said.