Crown Currency Exchange director 'stole gold bars'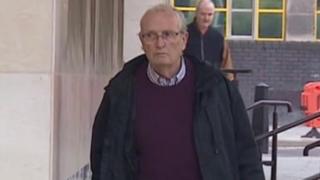 The boss of a currency firm that folded with £20m in debts fled to France with cash and gold bars, a court heard.
Peter Benstead left days before Cornwall-based Crown Currency Exchange and Crown Holdings folded, Southwark Crown Court heard.
The firm was one of the country's largest personal currency exchange businesses and up to 13,000 people are believed to have lost money.
Mr Benstead and five co-defendants deny all charges against them.
The court heard staff at the businesses, based at Hayle, continued to accept more than £2m in the week before going into administration, in October 2010.
Seven-week cruise
Mr Benstead took a ferry to France two days before the firm collapsed, the jury was told.
Prosecutor Peter Grieves-Smith said: "Was this when cash and 11 kilos of gold was taken across?
"Only two people can answer the question about what happened - and they are sitting in the dock."
Mr Grieves-Smith said Mr Benstead, 72, told staff he lived "modestly", but in 2010 he and wife Susan went on a seven-week cruise at a cost of £36,000.
Established in 2004, Crown Currency enabled individuals and business customers to pre-order foreign exchange at a set price, up to a year in advance.
Mr Benstead, of Penzance, denies four counts of theft, three of fraudulent trading, two of false accounting and one of converting criminal property.
Employees Edward James, 75, former mayor of Glastonbury, Somerset, and Stephen Matthews, 51, of St Newlyn, Cornwall both deny two counts each of fraudulent trading and two of false accounting.
Employee, Roderick Schmidt, 45, of Penzance, denies three counts of false accounting, two of fraudulent trading and one of theft.
Julian Benstead, 46, of Penzance, denies one count each of fraudulent trading and theft.
Susan Benstead, 69, of Penzance denies one count of converting criminal property.
The trial, which is expected to last at least 11 weeks, continues.