Man facing deportation over wife's salary gets visa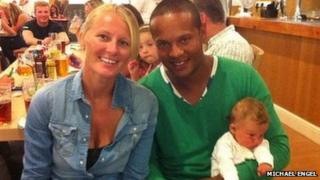 A man who faced being deported because his British wife's salary was too low has been given a visa to stay.
Michael Engel, from South Africa, lives in Cornwall with his wife Natalie and young daughter Nyana.
The 31-year-old yacht engineer had been told he could not stay in the UK as his wife did not meet the minimum £18,600 a year salary threshold.
The new visa, issued by the Home Office, will allow him to stay in the UK for 30 months.
Mr Engel said they had given up but started working with a new legal team who advised them to start again, with a fresh application.
He said: "It is a massive massive relief, you wouldn't believe it. We cancelled the appeal and made a fresh new application.
"We were doing the wrong things before but this time it was quick, we waited six weeks or so and got the result. We are all so happy."
The letter giving him permission to stay said after 10 years he would be able to apply for residence.
The couple were told by an immigration tribunal in 2013 that the earnings from Mrs Engel's craft-making business did not meet the financial threshold.
They appealed on human rights grounds in a bid to protect their family life but that was rejected in December.
The couple met in 2009 working on a cruise ship and lived in South Africa for four years.
They moved to the UK in January 2013 with Mr Engel on a visitor's visa, living first in Yorkshire and then in Cornwall.