Wage cuts 'could affect health care in Cornwall'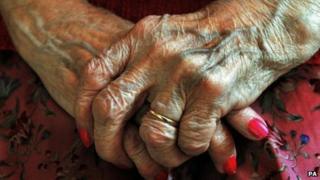 Health care in Cornwall could suffer as a result of proposed cuts to wages and benefits of staff, it is claimed.
Cornwall Care wants to cut wages by "about 8%" to £6.95 per hour during the week and £7.45 per hour at the weekend.
Public services union Unison said the changes could see staff leaving, which would put more pressure on healthcare across Cornwall.
The entire health system in Cornwall was placed on 'black alert' for eight days in February.
A spokesman for Cornwall Care, which employs about 275 carers, said it faced "unpalatable" decisions because it was losing money.
It said it had been forced to cut wages because it had not had the amount of work promised by Cornwall Council after the local authority reorganised home care in the county in June 2014 and cut the rates it paid to contractors.
'Incensed and angry'
The UK Homecare Association says providers should get just under £16 an hour - in June 2014 Cornwall Council set the guide price at £14.50 an hour.
In a letter seen by the BBC, Cornwall Care set out the proposals to reduce the hourly pay, cut mileage rates from 35p to 25p a mile and get rid of increased rates of pay for working bank holidays.
Stuart Roden from Unison, also standing as the Labour candidate for Truro and Falmouth in the general election, said the proposed changes could see staff lose "thousands of pounds a year".
He said the reason for the 'black alert' in Cornwall was "because we could not get people back out into the community".
A "black alert" takes place when a hospital or health trust cannot cope with the number of patients coming in.
Cornwall Council said it was carrying out a review of the homecare contract "to identify the key problems and develop potential solutions".