Newquay Airport: Government 'to oppose drone testing'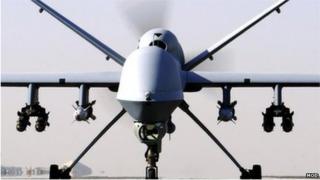 Plans to test drones at Newquay Airport are being opposed by the government, according to a leaked briefing note.
The note from the Cornish airport warns that Department for Transport (DfT) officials feel Newquay would be unable to separate drones from other aircraft.
Airport bosses say it would be possible to fit unmanned aircraft into day-to-day operations without any safety risk.
The DfT said flying drones from Newquay "must satisfy a number of safety criteria".
A deal with the National Aeronautical Centre (NAC) in Wales could see unmanned aircraft systems (UAS), known as drones, tested for military or civilian use at Newquay's Aerohub business park.
The briefing note, sent by Newquay Airport to business groups in the South West and seen by the BBC, said the airport needed "segregated airspace" to create the right environment for drones.
The document states: "It has however been suggested by senior DfT representatives that government policy has been established that precludes Newquay from creating the segregated airspace it requires to enable the operation of UAS beyond visual line of sight."
Newquay Airport chiefs understood the government would oppose its application for an "airspace change" under Civil Aviation Authority (CAA) guidelines.
"Without segregated airspace for UAS operations Aerohub does not have a credible offer and we have already lost investments due to not currently having it in place," the note continues.
"That investment has gone elsewhere and not necessarily in the UK which is a loss to the UK aerospace sector."
'Huge global market'
Al Titterington, the airport's managing director, said flying drones could be done safely and he was pushing for "an open and fair process for establishing the right airspace environment".
Chris Pomfret, chairman of the Cornwall and Isles of Scilly Local Enterprise Partnership (LEP), said there was a "vast" market for an airport offering facilities for unmanned aircraft.
"If Newquay can't almost no-one could and then we are actually cutting off a huge global market," he said.
David Learmont, operations and safety director at aviation news company Flightglobal, said the size of the runway and its coastal location meant Newquay was in a good position as a base for drones.
He said: "If they want it they should be allowed to bid for it and persuade the CAA that they have a plan which will be safe."
A DfT spokesman said: "The UK is at the forefront of the development of drone technology and the government is working with the EU, International Civil Aviation Organisation and the Civil Aviation Authority to ensure a clear regulatory framework to ensure we reap the economic benefits this technology could bring.
"We will engage in further dialogue with industry and the public later this year."