Daring WW2 St Nazaire raid remembered in Falmouth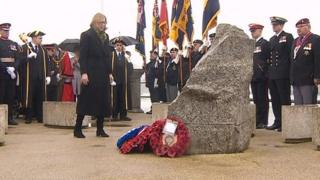 A ceremony to remember those who left a Cornish port in one of the most daring raids of World War Two has been held.
In March 1942, more than 600 men left Falmouth in a flotilla of three destroyers and 16 smaller boats, including HMS Campbeltown, which was packed with explosives.
The ship rammed into the gates of the docks in St Nazaire, France, causing them to be out of action for years.
Dozens of British servicemen were killed in the raid.
'Enormous concern'
Event organiser Eric Dawkins said: "This was Falmouth's part in the greatest raid of them all which of course turned the war in our favour."
At the time, the German battleship the Tirpitz was the subject of enormous concern for Winston Churchill.
But there was only one place on the Atlantic seaboard where it could be repaired - the enormous Normandie dock at St Nazaire.
Mr Dawkins said: "The destruction of the dock meant those facilities were no longer able to be used. Falmouth played a major part.
"I've known these veterans [who took part], including those few who are still remaining, for 30-odd years and know their tales."
About 30 Royal Marines and representatives from the Merchant Navy Association and Royal Navy Association took part in the service on the Prince of Wales Pier in Falmouth.