Cornwall mud finds are declared treasure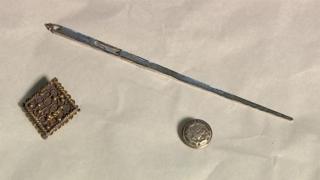 Items found in Cornish mud will be shown to the public after being declared treasure.
The items include a silver Tudor dress hook, a solid silver bodkin - a type of hairpin, made in 1657 - and an inscribed gold ring.
They were found by metal detectorists who are required by law to report valuable finds.
They will be on show in the Hands on History Hub exhibition from 12 March at the Royal Cornwall Museum.
The finds, called "declared treasure" at an inquest, were found at an unnamed spot in west Cornwall.
They also include one half of a pair of silver cufflinks with an image of a flaming heart stamped into it.
The finds could result in a reward for their finders or could be returned to them depending on legal proceedings which follow such discoveries.
Royal Cornwall Museum finds officer Anna Tyacke: "We go to the detectorist club meetings every month to take finds in.
"We are on call night and day to find treasure."