Cyclone Pam: Cornwall charity Shelterbox prepares aid for Vanuatu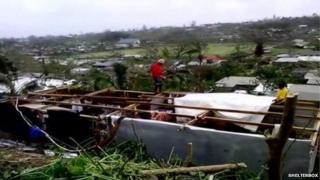 The Cornish-based charity Shelterbox is mobilising aid and a response team to Vanuatu following Cyclone Pam.
The United Nations Humanitarian Office said on the main island of Efate, 90% of structures were damaged or destroyed.
Many of Vanuatu's 260,000 population are said to be homeless, with thousands of people sheltering in over 25 evacuation centres.
The charity will send 1,000 shelter kits to help repair damaged buildings.
ShelterBox operational manager Alf Evans said: "Our initial response will see the 1,000 shelter kits deployed from Subang and distributed with CARE International.
"Once we have ShelterBox response team members on the ground we will be aiming to make further contributions to partnership work on shelter and repair."