Cornwall girl, 10, save stepfather's life using CPR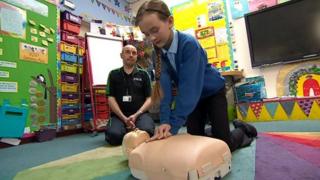 A girl saved her stepfather's life by using resuscitation skills she was taught at school.
Ten-year-old Bethany began chest compressions on Robert Hoskins when he was found unresponsive on the floor at their home in St Columb Major in Cornwall on Sunday.
Bethany told BBC News: "I was quite scared and I really didn't know what had happened."
Mr Hoskins said she had saved his life, and called her a "superstar".
His partner, Jane Simpson, said she "panicked" when she saw him on the floor.
She said: "I put my hands on his chest but I couldn't bring myself to do it [CPR].
"I was shaking. Bethany grabbed my hand and said 'it's OK, I know what to do I've learnt it in school'."
She learnt the skills from the St John Ambulance which had visited St Columb Major Academy, near Newquay.
Mr Wilson, from the ambulance service, said: "It's one thing to teach it to a child, it's another thing for a child to do it. It's a scary thing to do.
"How many 10 year olds can say they've saved someone's life? I'm so proud of her," he added.
Mr Hoskins, who has since recovered, said: "She saved my life. I don't know how to put in to words how thankful I am. She's just a superstar."