'Bogus' counselling trainer Jacqueline Crane jailed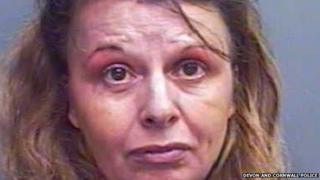 A woman who conned students out of almost £8,000 when she posed as a counselling trainer with a fake doctorate, has been jailed.
Jacqueline Crane, 52, from Cornwall, also made up children to claim benefits and forged sick notes to avoid court.
She pleaded guilty to charges of fraud, benefit fraud and perverting the course of justice at Truro Crown Court.
Sentencing, Judge Simon Carr said Crane's actions were a "fantasy from beginning to end".
He said: "You prepared a significant amount of bogus course material to defraud a series of students into the belief you were running a counselling course."
'False children'
The judge said mature students had "dedicated hundreds of hours in the belief they were improving their chances of employment".
The court heard Crane, of Trelowth Road, Polgooth, also "invented false children to claim rebates" in council tax.
The judge said Crane invented "life-threatening conditions" following her arrest and supplied forged doctor's letters to explain her absence from court.
Bathsheba Cassel, for the prosecution, said seven victims paid up to £2,000 each between May 2012 and November 2013.
She said the defendant pretended to be Dr Jacqueline Crane, with a PhD from Plymouth University.
Students were suspicious when the hologram on their certificates was a piece of foil.
Jeremy Leaning, for the defence, said: "All these offences are the product of fantasy and lies."
Crane was sentenced to 12 months for one count of fraud and three months for one count of perverting the course of justice.
She was then given an additional three months, for one count of fraud, bringing the total to 18 months.
Crane was given three months for each of four counts of supplying an article for use in fraud and one count of adapting an article, a tax credit letter, for use in fraud, to be served concurrently.