Germanwings clarifies direct flights website map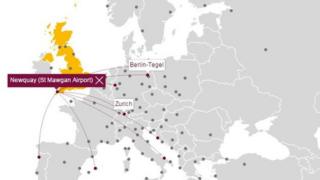 A German budget airline has clarified its plans for flights from Newquay in Cornwall to five European destinations after confusion over a website map.
The map on Germanwings' website appeared to show flights direct from Newquay to Berlin, Porto, Zurich, Zadar in Croatia and Majorca from 30 May.
When asked about the direct flights, Newquay's boss Al Titterington, said: "It's not something I am aware of."
The firm later explained the flights were all via Dusseldorf in Germany.
A spokeswoman said: "The routes are flights with connection and not direct connections."
The Germanwings' website says flights from Newquay to the European destinations can be booked from 30 May to 12 September.
The airport's press office said Mr Titterington was meeting with Germanwings in Aberdeen on Sunday to discuss further routes at the Routes Europe meeting.
Routes Europe is an annual gathering for aviation firms to agree future routes.
Germanwings joins Flybe, Easyjet and Skybus operating flights from Newquay.