Fire rips through Cornwall thatched roof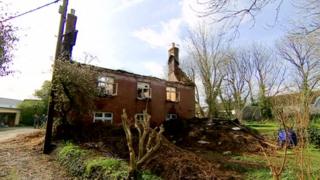 Fire crews have spent the night tackling a blaze that ripped through the thatched roof and first floor of a house in Cornwall.
Six appliances and 50 fire fighters were at the scene of the fire in St Newlyn East after emergency services were called at 20:24 BST on Saturday.
No-one was injured in the fire which is thought to have been caused by a nest being set alight in the chimney.
Firefighters have remained at the scene, damping down.
Jacquie Price, who sold the house 18 months ago, said the current owners had been found alternative accommodation.
"I have never seen so much smoke. It was billowing," she said.
"People are very sad because the house was part of the village.
"It was part of the village farm for years and it was also the village post office years ago - you can see the brickwork where the letterbox was."