Cornwall Council pay freeze funds living wage bill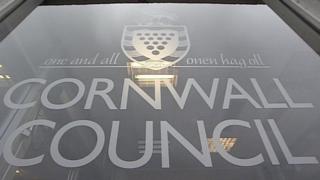 The introduction of the living wage at Cornwall Council is seeing the authority juggle about £1m a year in its wage bill.
The council said it could afford the increase, from April, for 1,800 of its lowest-paid workers due to pay freezes for other staff until 2017.
Those affected are seeing a rise from £6.50 an hour minimum wage to £7.85.
The living wage is based on the amount an individual needs to earn to cover basic costs of living, about £15,000.
'Sets an example'
Stepping up to the living wage followed an agreement made between the council and trade unions.
The council said roles receiving rises included administrative and clerical assistants, caretakers, cleaners, cooks, drivers and domestics.
The council's leader, Independent John Pollard, said: "We're just pleased to do it because it sets an example, a minimum standard.
"It means that in Cornwall Council, no matter what you do, you're paid [at least] £15,000 a year and that's important."
Unison branch secretary Gill Allen said about the agreement earlier in the month: "For once, this is positive news."