Campaigners deliver NHS petition to Cornish candidates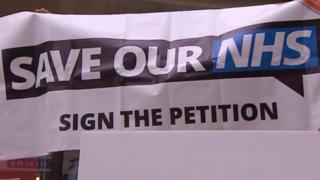 Campaigners have delivered a 10,000 signature "Save Our NHS" petition to parliamentary candidates in five Cornish constituencies.
The petition was handed in by independent campaign group 38 Degrees at events across the county.
The petition called on the MP candidates to protect the NHS from funding squeezes and privatisation.
The campaigners also challenged the candidates on how they would protect the NHS if they were elected on 7 May.
David Babbs, executive director of 38 Degrees, said: "We're sending a clear message to our local MP candidates - you're being watched by hundreds of us, and we all want you to protect the NHS.
"Politicians can't sit on the fence about the NHS. If they want our votes, they need to promise to keep the NHS safe from private companies and funding freezes."