Cornwall hospitals trust fines cleaning firm Mitie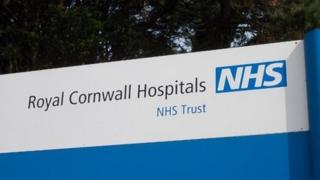 Health bosses have deducted more than 50% of a private cleaning firm's profits during February because of failing standards, it has emerged.
Mitie was hired last year to do the cleaning and catering at Cornwall's three main hospitals.
The money was taken off because of 50 incidents, the Royal Cornwall Hospitals Trust (RCHT) said.
Mitie said it was working with the trust to "deliver a good quality service to all users".
Mitie is responsible for internal cleaning and catering services at the Royal Cornwall Hospital in Truro, St Michael's in Hayle and West Cornwall hospital in Penzance.
'Major failures'
A Freedom of Information request by BBC Radio Cornwall found that 51% of Mitie's profits in February were deducted over problems such as failures to clean or a patient not getting a meal in time.
Twelve of the incidents were classed as "major failures" but the trust has not said what those incidents were or what the deduction was worth.
The RCHT said it was working with the local Mitie team to resolve any issues.
Mitie said its performance had improved recently and "these figures do not reflect the good work that our people are continuing to do".
It said: "Since the report was published, half of the 'major service failures' have been reassessed and have since been reclassified as being lower grade.
"We are working closely with the trust to continue to deliver a good quality service to all users and stress that we put patient care at the forefront of everything we do."
The union Unison said it had agreed a process with the trust and Mitie to review matters on a regular basis and "hopefully improve standards for the patients and employment matters for the staff".