Alex Folkes row: 'Child risk' councillor is 'victim'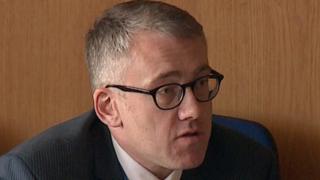 A councillor accused of being a "serious and enduring risk" to children has spoken for the first time in public to proclaim his innocence.
In 2014, Cornwall Council warned youth groups about councillor Alex Folkes based on a 2006 police investigation into sexual images of children.
At County Hall this morning Mr Folkes told members: "I consider myself to be a victim of crime."
The councillor said the incident was "ruining his life".
Mr Folkes stood down from his cabinet position in charge of Cornwall's finances in November when the council issued a warning to youth groups based on the 2006 investigation by the Metropolitan Police.
He told councillors at the constitution and governance committee he was investigated by police after his bank card was "cloned and used illegally".
'Ruining my life'
He said: "Police told me then and have subsequently told me that no illegal images were found on my computer.
"I consider myself to be a victim of crime."
Councillors discussed possible changes to safeguarding procedures as a result of an independent report carried out into what happened.
Mr Folkes said: "I know from my case that I don't believe it was a fair process. I don't want anybody to be put in the situation I found myself in.
"This is ruining my life and I don't want that to happen to anybody else."
Councillors considered introducing enhanced Disclosure and Barring Service (DBS) checks on all members, as recommended in an independent report, but heard that would not be allowed by the DBS and deferred their decision.
Cornwall Council confirmed it maintained its belief Mr Folkes "poses a serious and enduring risk to children".
Following the meeting Mr Folkes, who voluntarily suspended himself from the Liberal Democrats, said he would continue to represent Launceston Central for the foreseeable future.