Cornish teenage boy, 14, 'saves baby's life'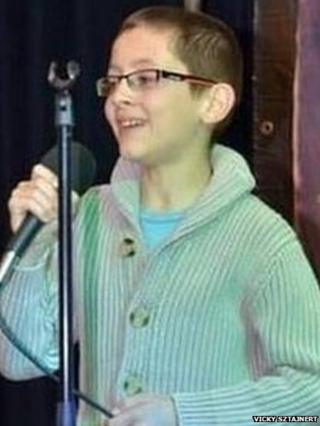 The parents of a baby girl whose pushchair rolled into a road when its brakes failed, have thanked the teenager who "saved her life".
Jordan Haines, 14, from Roche, Cornwall ran in front of an oncoming car to grab the buggy, "without thinking".
The parents of three-month-old Josie Sztajnert were unloading shopping from a bus, on Saturday, when her pram came off the pavement.
Her father Pete Phillips said it was "a parent's worst nightmare".
Josie's parents, Mr Phillips and Vicky Sztajnert, had just returned from a shopping trip from St Austell with their two young children.
"I turned around for two seconds to pick the bags up, I just saw the buggy running off the pavement and Jordan pretty much leapt across the road," said Mr Phillips.
"It all happened so fast, I just froze so it was lucky Jordan was there to grab the buggy.
"I don't know what I can say to him to express how grateful we are," he said.
Jordan said he was "at the bus stop with mates messing around" when spotted the pushchair.
"I saw this Land Rover coming down the hill and I ran as fast as I could to the buggy not thinking of the traffic and saved the baby's life," he said.
"I feel proud of myself but I don't think other people would've done it", he said.
Jordan's mum Michelle Haines said: "I am so so proud of Jordan and to call him my son".