Man's amputation cancelled four times at Derriford Hospital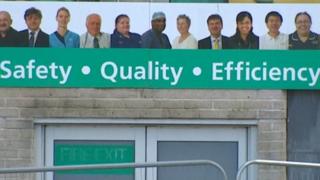 A man whose leg amputation has been postponed four times says the situation is "getting out of hand".
Barrie Neale, 73, from Seaton in Cornwall, says Derriford Hospital in Plymouth has repeatedly rescheduled the operation over the past 10 weeks.
Mr Neale was born with a disability and he increasingly struggles with mobility and pain.
Hospital bosses apologised and said they were trying to rebook him "as soon as possible".
Mr Neale had been due to go in on Wednesday but the hospital claimed it had a backlog from the bank holiday.
Previous operations were cancelled on 26 February, 12 March and 23 March.
"Half the time I can't sleep with the pain," he said.
Mr Neale said every time his operation had been cancelled, he had been told the news by telephone the day before.
According to Plymouth Hospitals NHS Trust, more than 1,000 operations were cancelled at Derriford in January and February.
Chief executive Ann James said: "It is a difficult decision to cancel any patient's operation and we recognise the inconvenience and distress this has caused Mr Neale.
"We are truly sorry for the emotional impact it is having on him and if there was any way we could have avoided cancelling, we would have."
A spokeswoman said since the beginning of this year, the hospital had faced "unprecedented and sustained demand from patients presenting as medical emergencies".
She said this had a significant impact on operating lists but cancelling an operation was always a last resort.