Ex Truro Diocese worker Jeremy Dowling sexually abused boys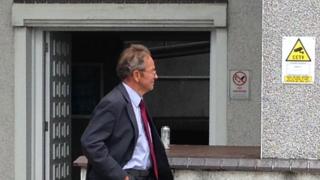 An ex-Diocese of Truro press officer has admitted sexually abusing boys over a period of more than 10 years.
Jeremy Dowling, 76, carried out the assaults on five children, aged between 12 and 15, from 1959 to 1971.
Truro Crown Court heard Dowling abused the boys at sporting events and in toilets while working as a teacher in Devon.
The Bishop of Truro described Dowling's offences as "deeply shocking" and said his thoughts were with the victims.
Sentencing was adjourned until July 10 for a pre-sentence report to be prepared.
Dowling, of Church Path, Bude, retired from the Diocese of Truro in 2009 after 25 years of service.
'Damaging impact'
He pleaded guilty to 13 counts of indecent assault on boys aged 12 to 15 and two counts of indecency with a child.
The court heard one assault was carried out on a boy at a cricket match. Others took place in an attic, in storage rooms at a sporting pavilion and in outside toilets.
The Right Reverend Tim Thornton, Bishop of Truro, said many people would have known Dowling as a reader at St Michael's Church and St Genny's Church in Bude and as a member of the Diocesan and General Synods.
Bishop Thornton said: "Offences like this will have a damaging and lasting impact on people's lives.
"It will probably be of some comfort to them that Jeremy Dowling has finally been brought to justice, but let us not deny that crimes such as his cause people to doubt themselves, their relationships, their faith - all aspects of life."
The bishop said safeguarding children and vulnerable adults in the Church was "of paramount importance" and "informed by the voices and experiences of survivors".