Truro Cathedral launches £3m appeal for new roof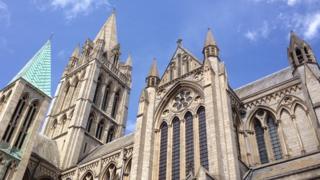 An appeal has been launched in a bid to raise £3.2m to replace Truro Cathedral's leaky roof.
The church's Dean, the Very Reverend Roger Bush, said the current roof has holes in it and tiles slipping off which are "beyond replacing".
Work on the new roof is expected to take three years, and must start within a year after the project was awarded a £500,000 government grant in 2014.
The current roof has been in place for 107 years.
James Barker, from the cathedral, said there was no other option but to have a new roof.
'Crack on'
"It's got to be done otherwise we'll have so much water ingress," he said.
"We have to complete the work on it, otherwise the damage to the cathedral will get worse and worse."
Dean Bush said the cathedral had been "very lucky" to receive one of the largest grants from the First World War Cathedrals Repair Fund.
"I think that was an indication actually of the confidence in us to deliver," he said, "but we do have to realise that within a year so this first stage of our works we've got to crack on with".
He said the scaffolding was the biggest part of the budget.