Cornwall devolution: First county with new powers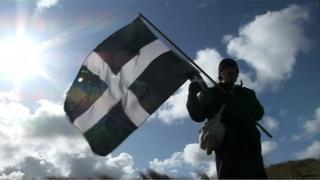 Cornwall is to become the first county to gain historic new powers after a devolution deal was announced.
The county will be in charge of bus services and local investment, while health and social services will integrate.
Ministers said it was a key part of the government's One Nation commitment to devolve powers to local authorities across the country.
Cornwall Council had however requested a much wider range of powers.
Prime Minister David Cameron said it "marks a major shift for the people who live and work in Cornwall - putting power in their hands".
He said: "I think decisions are better made by local people and often Cornwall has fallen to the back of the queue."
Mr Cameron said funding that was previously "held back centrally" would follow services and "be spent in Cornwall".
The government says the devolution deal will:
Give Cornwall Council powers for franchising and improving local bus services
Help Cornwall and the Isles of Scilly councils create a plan to bring health and social care services together
Enable the council to choose what projects will see millions of pounds of investment
Give the Cornwall and Isles of Scilly Local Enterprise Partnership (LEP) more input on boosting local skills
Make it easier for the LEP to integrate national and local services to help local firms grow
Cornwall Council leader John Pollard said it was brilliant news.
"This gives Cornwall greater powers over public sector funding. This is the first stage of a longer journey towards delivering the full case for Cornwall," he said.
---
Analysis: BBC South West political editor Martyn Oates
It's been clear over the last week or so that the government was very keen to finalise a devolution deal for Cornwall.
But the agreement reached between Cornwall Council and ministers has been driven through by the government before the council had submitted its "Case for Cornwall" - a document, months in the preparation, asking for a much wider range of powers.
Will the government still consider the more ambitious Case for Cornwall? Or does this announcement represent Cornwall's devolution settlement for the foreseeable future?
---
Cornwall councillors approved the plans in a private meeting on Tuesday.
Council members gave leader Mr Pollard a mandate to sign off an agreement with the government but both UKIP and Labour members voted against the deal.
Cornwall Council said it would now work with local partners and civil servants in London to develop detailed plans to implement the proposals.
Independent councillor Andrew Wallis said: "No doubt there will be people disappointed with the elements of this deal and the lack of inclusion of such areas like planning and housing.
"But I really hope this deal is just the first phase, and the council, with its partners continues to engage with the government and its civil servants which results in Cornwall gaining more devolved powers."
Dr Iain Chorlton, chairman at NHS Kernow, said: "This is a significant milestone as we work towards our shared ambition of integrating health and social care, empowering local communities to have greater ownership of decisions and resources, tailored to local needs."
Stuart Roden, of the union Unison, said: "Whilst we welcome the first phase of devolution, we hope that Cornwall will receive additional elements in the years to come. Affordable housing is a big concern in Cornwall, and key council workers are often left feeling the pinch as costs increase.
"For years we have known that Cornwall's public services are under funded, and we hope that this is a step in the right direction to get fair funding."