Cornish band finds migrants in back of van in France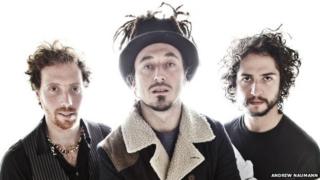 Members of a band from Cornwall have found two suspected migrants in their van while coming home from France.
Wille Edwards said he was refuelling the van at a petrol station about 70km (43 miles) from Calais on Sunday when he found the stowaways after being alerted by the van shaking slightly.
The pair got out of the vehicle and were left where they were discovered.
Mr Edwards said it was possible he might not have not known about the stowaways until getting back home.
'Felt almost guilty'
The band, Wille and the Bandits, was returning to Cornwall after playing a festival in France.
Mr Edwards said he "saw the van was shaking a little bit and had a look" after he had finished filling up with fuel.
He told the BBC: "The first we could have known about it would have been if we had got back to Downderry, opened the doors and two people would have jumped out."
He said the first man didn't want to leave but "got out in the end", and that the second stowaway "kept saying 'Please, please?'".
He added: "I said I'd love to help but had to say no. He then said 'sorry'.
"It was amicable and very emotional. I felt almost guilty that I couldn't help him because these people are desperate."
Thousands of migrants are camped in Calais, attempting to reach the UK by crossing the Channel.