Newquay-Gatwick flight aborted after take-off bird strike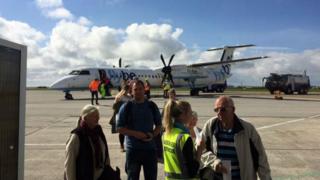 A flight from Newquay to London was aborted after being hit by gulls during take off, airport staff said.
The port-side engine of the Flybe Dash-8 Q400 aircraft - capable of carrying up to 86 passengers and five crew - was damaged while trying to take off for the 11.05 BST flight to Gatwick.
The 65 passengers were taken off the plane and put on a replacement flight. There were no reports of any injuries.
One passenger reported a bang and seeing blood on windows.
'Big bang'
Passenger Andrea Siodmok, from Newquay, told the BBC the birds hit the aircraft while it was on the take-off run down the runway, but the plane never left the ground.
She said: "The pilot told us four seagulls hit us.
"There was a big bang, a smell of burning and we saw some blood down the windows, which was pretty grim. We also saw a big dent in the nosecone.
"The passengers were really calm. There were two passengers next to me who were on their first flight ever and they were disappointed that we couldn't continue."
Flybe said the flight "experienced a multiple bird strike shortly before take-off".
It said: "The captain subsequently aborted take-off and the aircraft returned safely to stand, where all 65 passengers disembarked as normal.
The company added that the Newquay passengers were delayed by about two-and-a-quarter hours and there were knock-on effects which "resulted in disruption to a number of other Flybe flights, including those from Newquay to Manchester and to and from Stansted".