'Huge' numbers of jellyfish wash up on Cornish beaches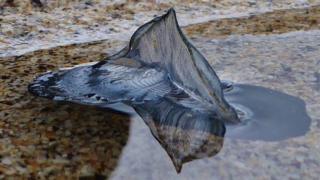 A "huge number" of jellyfish have washed up on several of Cornwall's beaches, conservationists have said.
Most of the jellyfish are mauve stingers and by-the-wind sailors which have been found on beaches including Watergate, Fistral, and Sennen.
It has been described as "jellyfish soup" by one beachgoer because there were so many.
The Marine Conservation Society (MCS) said the unusual event was caused by "persistent south-westerly currents".
Dr Peter Richardson, from the MCS, said a "huge number" of jellyfish had washed up and the mauve stingers "really live up to their names and can pack a punch".
"If a jellyfish is wet it can still sting you so we recommend you look, but don't touch."
The MCS is asking people to report their sightings on the charity's website.
Delia Webb, from the Friends of Portheras Cove in West Cornwall, said: "It looked like jellyfish soup. There were too many to count on the beach and the rock pools were full."
Since the weekend, conservationists believe hundreds have died on Cornish beaches.