Knitted uteruses used in Sierra Leone to train medical staff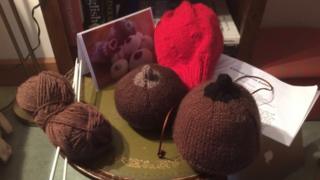 Knitted teaching aids are being sent to help train new medical staff in Sierra Leone after hundreds of health workers died from Ebola in West Africa.
A group in Cornwall has knitted breasts and uteruses which are used in teaching the next generation of medical staff.
The Royal College of Nursing said there were similarities between the "ribbed knitting pattern and muscle tone".
There were 328 confirmed cases of Ebola in Sierra Leone health workers between 2014 and 2015, figures show.
In May, The World Health Organisation published data which showed between January 2014 and March 2015 there were also 108 suspected cases of the disease among health workers in the country.
It said in Guinea, Liberia and Sierra Leone among health workers where the outcome was known, two thirds of those affected had died.
More on this story and other news from Devon and Cornwall
Nicola Brown, who is in the country and teaching health workers, said they were useful to show what was happening inside the body and for training on pregnancy and breastfeeding.
"There are few teaching aids in Sierra Leone, we have to make things up as we go along."
Ms Brown, who arrived in the country during the Ebola outbreak as an NHS volunteer, said she encouraged her mother's friends to knit the props.
Knitter Maggie Haward, one of the team of three who have knitted more than 20 props so far, said: "A breast takes about two evenings to knit and stuff, a uterus takes perhaps a little longer."
A spokesman from International Medical Corps UK, which is behind the project, said: "The knitted uteruses and breasts help trainees teach about pregnancy, breastfeeding and also how patients should check for breast cancer."
Carmel Bagness, from the Royal College of Nursing, said: "It can be an economic alternative teaching and learning aid, when there may not be access to more modern materials to create anatomy models.
"There are some similarities between the ribbed pattern in knitting and patterns within muscle tone, so it makes sense."