Storm Imogen leaves debris on Cornwall beaches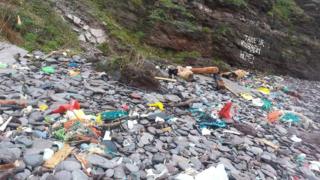 Storm Imogen has left tonnes of plastic on beaches around the Cornwall coast, a campaign group says.
Debris has been found on Perranporth beach, one of the most heavily affected beaches for marine litter in the country, according to Surfers Against Sewage.
Pink Vanish bottles and HP cartridges has previously washed up on Tregonhawke beach at Whitsand Bay.
More debris is expected to wash up over the next few days.
Dom Ferris, from Surfers Against Sewage, said: "We've got huge pile ups of marine litter, both large pieces and the more dangerous and smaller items of marine plastics.
"When we have these storms we're seeing marine litter which may have spent many years on the ocean floor being reanimated by the force and power of these storms and getting dumped upon our shores."
Storm Imogen battered Cornwall with huge ocean swells, strong winds and a very large tide.
Claire Wallerstein runs Rame Peninsula Beach Care and says much of the rubbish has come from the Atlantic ocean.
"A lot of it is transatlantic stuff such as American and Canadian lobster pot buoy markers, and HP cartridges and Vanish bottles from various incidents," she said.
"It shows how much stuff is out there."