Cornwall Air Ambulance recruits flying doctors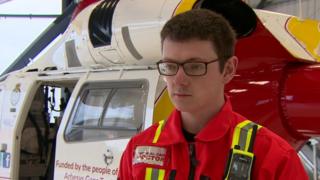 Eight doctors have been recruited to take to the skies of Cornwall in a bid to help get patients to the right hospital as soon as possible.
Cornwall Air Ambulance says the doctors will assess patients and make sure they are taken to the most appropriate treatment centre.
Usually patients have to be flown to the nearest acute hospital, Cornwall Air Ambulance says.
The £200,000 scheme will see the doctors help train paramedics.
Dave Ashton-Cleary, lead airbase doctor, said: "Having a doctor on board can mean different types of medical procedure being done, it can mean more advanced pain relief being offered and it can even change the destination hospital we decide to take the patient to."
The two-year programme, in partnership with the South Western Ambulance Service NHS Foundation Trust, will see doctors flying on board the charity's helicopters up to four days a week.
Ross Hollett, 12, from Wadebridge, fractured his skull after losing his balance during a day crabbing at Padstow Harbour.
He was taken to Royal Hospital Cornwall at Treliske by air ambulance, but could have needed treatment at Bristol Royal Hospital For Children.
Ross's mum Lynette Hollett said: "The paramedics are absolutely brilliant and they were really good with Ross.
"But obviously a doctor being there, if the decision had to be made that he needed airlifting to Bristol, would have been great."
Paramedic Steve Garvey said: "From our base in Newquay our average flight time for covering the whole of the county is 20 minutes. From the far west reaches of Cornwall we can be at Derriford Hospital in Plymouth within 30 to 40 minutes, cutting down journey times of up to two hours or more.
"This can be the difference between life and death for certain critically injured or ill patients."