Hayle's Carnsew Quay wall collapses after 'high tides'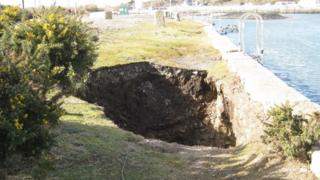 High tides and poor weather are to blame for the partial collapse of a quay wall, a harbourmaster has said.
The hole, which measures approximately 4m (13ft) by 2m (7ft), has caused rubble to tumble into the water at Carnsew Quay, in Hayle.
Hayle Harbour Authority has fenced off the area and people are advised to stay away. Boats have also been moved.
Harbourmaster Peter Haddock said he was in contact with contractors, but was unsure when the wall would be repaired.
More on this story and other news from Devon and Cornwall