St Piran's public holiday plea for Cornish devolution deal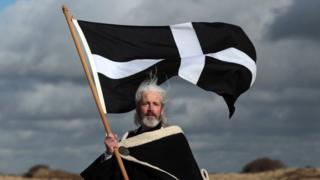 An extra public holiday could be created for people living in Cornwall as councillors want it to be part of devolution deals with the government.
St Piran's Day on 5 March remembers what is said to be the patron saint of tinners, who at one time had a booming industry in the county.
Cornwall Council members voted to explore the cost of the public holiday.
Cornwall's tourism chief said the scheme could prove expensive for businesses.
Last year, the government devolved powers in areas such as transport and health to Cornwall Council, and further negotiations are now ongoing regarding a second devolution package.
'Great celebration'
Roy Taylor, councillor for St Blazey, said: "It works in Scotland for St Andrew's Day and they're talking about doing something similar in Wales, so why wouldn't it work in Cornwall?"
In 2006, a bill to make St Andrew's Day a day of national celebration in Scotland was passed, and in Wales in March MPs backed a call to allow the assembly to make St David's Day a national holiday.
The motion backed by councillors asks that "the freedom to celebrate St Piran's Day as a public holiday is one of the new powers negotiated" with central government.
Malcolm Bell, chief executive of Visit Cornwall, said the day "would be a great celebration of St Piran's Day" and Cornwall's profile, but would not boost the economy.
He said the holiday could cause "tension between employers" and would add costs to businesses.
In 2011 Cornwall councillors made a similar unsuccessful bid when the government was looking at a wider reform of public holidays.
In 2014, Cornish people were granted minority status under European rules for the protection of national minorities.