Eurosceptics 'racist' says tourist boss Tim Smit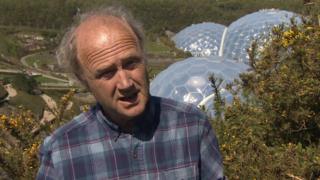 Eurosceptics have a "strange racism" about foreigners according to the boss of one of Cornwall's main tourist attractions.
Tim Smit, of the Eden Project, which has received millions of pounds in EU grants, said the UK government would not have supported it in the same way.
Getting money from the government was "like pulling teeth", he said.
Cornwall Conservative MP Sheryll Murray said she was "disappointed" with Mr Smit's comments.
Mr Smit, whose Eden Project was opened in 2003 and features two biomes with plants from around the world, said: "Many people who take a public stage to talk about it have a strange racism about Johnny foreigner.
"'We always want to be in control of our own destiny' they say, as if they ever were, it's a great joke."
Analysis: Martyn Oates, BBC SW Political Editor
Tim Smit's comments follow controversial claims from one of the Leave campaign's leading figures, Boris Johnson, that the EU has the same goal as Hitler in trying to create a European superstate.
Anger and outrage are increasingly common as the campaign moves towards its final month.
The most important thing, of course, is the result and whether Britain chooses to leave or remain in the EU.
But there's also much speculation as to how easy, or difficult, it will be to calm the anger and heal the wounds caused by the campaign once the issue is decided one way or the other.
He said Cornwall was "quite Eurosceptic" despite millions of pounds of EU money flowing in over the years.
"I think there is a romanticism of the past in Cornwall," he said.
"Investment was tiddly before Europe got involved."
Eden had received £26m from the EU, he said, but the last cash injection was in 2004/5.
He said central government had "hated" Cornwall "since about 800AD".
"You get a privileged upper and middle class who see Cornwall as a place to have Famous Five holidays," he said.
"And we have young men and women who are being betrayed."
South East Cornwall MP Ms Murray said: "I have been a Eurosceptic because of the situation with the common fisheries policy for about 50 years.
"That doesn't mean I'm anti-European. There is a difference between being anti-EU and anti-European.
"I'm really disappointed he has taken this view. I don't think Cornwall benefits from EU money as it is our money shuffled through a middle man."