Too much sun blamed for closure of Penzance outdoor swimming pool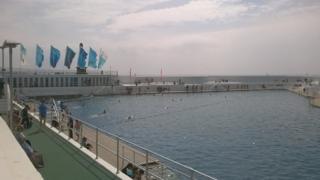 Too much sunshine has been blamed for the closure of an outdoor swimming pool in Penzance, Cornwall just days after it reopened.
The Art Deco Jubilee Pool had been shut since it was wrecked by severe storms in January and February 2014.
The £3m refurbishment included major structural repairs, drainage and electrical work.
Tempus Leisure, which runs the pool, said a combination of sunshine and warmth had created an algal bloom.
The bloom is caused by a rapid growth in millions of microscopic algae, brought about by sunlight and heat.
In a statement the firm said the bloom was not harmful, but its presence meant lifeguards could not clearly see the bottom of the pool in all areas.
"It's a completely natural phenomenon," a spokesman told BBC News.
He said the aim was to operate the tidal saltwater pool - one of only a small number in Europe - as naturally as possible, without the use of chemicals, but that in this instance, "the absolute minimum amount of chlorine" had had to be used.
"The pool's been treated... and it's looking great and will 100% be open tomorrow," he added.
The pool was built in 1935 to commemorate King George V's silver jubilee.