Dolphins swim among surfers off Cornish coast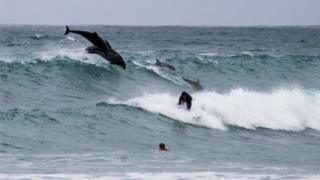 A pod of dolphins "put on a show" for people on a beach in St Ives as they swam alongside surfers and children.
They were caught on camera by Karen O'Dell, a local photographer, who spotted them on Porthmeor Beach on Saturday while she sat in the rain.
She said: "The dolphins were amazing, they were really playing and jumping in the big waves.
"It was like they'd come to see us and put on a show. I have seen them before at Porthmeor but not that close."
'Click here for live updates on this story.
The photographer said she was sitting on the beach watching children playing in the sea when the dolphins arrived.
"I was thrilled when I saw them, even more thrilled when I realised that I had my camera with me."
Since she posted the images on Facebook on Saturday they have been shared hundreds of times.