Cornwall Good Samaritan beaten and throttled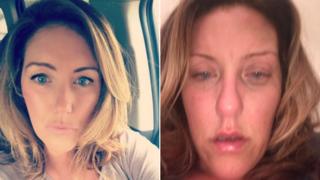 A woman who stopped her car to help a man was beaten up and robbed by the side of a quiet country road.
Good Samaritan Lucy Hawthorn, 36, who was left with a black eye and a broken rib, said she "feared for life".
She said she pulled over to offer assistance because the man looked unwell, "bent in half holding himself".
But the assailant, who was wearing Marigold-style gloves, struck her with a metal object and tried to strangle her, leaving her unconscious.
More on the attack, plus more Devon and Cornwall news
The attack happened as Ms Hawthorn went on an errand from her home in St Eval to St Columb Major in Cornwall at about 23:00 GMT on 7 March.
She said when she pulled over to ask the man if he was OK, "he just turned round with a metal object and hit me on the head".
"Then he hit me three more times on the head, bang, bang, bang.
"I fell on the verge and he was strangling me.
"I really thought I was going to die."
She bit the man on the wrist or lower arm and he hit her again, leaving her unconscious. He fled after robbing her of a number of possessions.
Ms Hawthorn has had two brain scans in hospital but has been given the all-clear.
The man is described as white, stocky, about 5ft 10in tall, aged in his mid 20s to early 30s.
Insp Dave Meredith of Devon and Cornwall Police called it a "disturbing incident" and is urging anyone with information to come forward.
Ms Hawthorn said the attack had left her unable to go out alone.
She said: "I needed to make sure he was alright - what if he had been found dead the next day?
"But I will never stop my car again."